$ 19.99 $ 48.00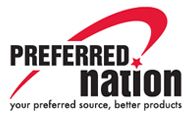 Preferred Nation G Tech Portable Charger
This incredible powerful battery pack will recharge most small electronic devices such as an ipod, iphone, GPS, digital camera, MP3, and most cell phones. It's so compact and easy to store in your purse or briefcase. The battery is a high performance Li-Ion which takes about 3 hours to fully charge through A/C power or PC. There are 5 indication lights to show how much power is stored in the battery pack. It's a real life saver for emergency calls in the mountain trials or during travels. Accessories included: 7 attachments for popular phones like ipod, iphone, Motorola mini USB, Black Berry storm, Nokia, Samsung, LG & Ericsson. It also includes a charging cable, an A/C adaptor, and a nylon carrying bag.
Different attachments for different electronics
Portability
Easy to store
High performance
Dimensions: 3 1/4"W x 2"H
Material:
Colors: Black
Weight in lbs: 0.6
SKU: 5256
G-Tech
Technology brought to the bag to provide an up to date practicallity that upgrades the mundane to the modern.
Any images or logos on the product are examples only of customized orders. All product will be shipped blank. If you desire to customize your order please contact us for pricing and details.