$ 30.00 $ 48.00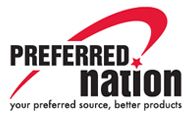 Preferred Nation G Tech Loaded Sound Bag
Not just a holder for your iPod, MP3 player or other small audio player, this bag functions as a speaker enabling its user to listen to and completely control the music from the outside! Turn your tunes up or down without having to access the actual device! Simply swipe or tap the graphics on the outside of the case to change the volume. Easily integrates with other speakers or headphones. A belt loop on the back allows for easy carrying. Required 2 AAA batteries (not included).
Bag acts as speaker.
Hangs on belt
Works with audio players like MP3 or iPod.
Play your tunes or travel in style
Dimensions: 3" x 5" x 1 3/4"
Material: Nylon
Colors: Jet Black, Deep Blue, Red Hot
Weight in lbs: 0.44
SKU: 5230
G-Tech
Technology brought to the bag to provide an up to date practicallity that upgrades the mundane to the modern.
Any images or logos on the product are examples only of customized orders. All product will be shipped blank. If you desire to customize your order please contact us for pricing and details.