$ 10.50 $ 16.80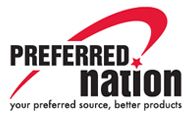 Preferred Nation G-Tech Compact Power Charger
This convenient power charger makes the perfect gift for anyone who is on-the-go. It is compact and light weight, easy to store into your purse or briefcase. It will recharge most smartphones such as iPhone 4S & 5S, Samsung Galaxy, HTC, etc. Accessories include a USB to Micro USB charging cable. Simply connect the power charger to a wall outlet or computer via USB adapter to charge the device. Once it is fully charged, the LED light will turn from red to blue.
Charge power charger to full – approx 4 hours
Battery type: Lithium-ion
Output voltage: 5V
Capacity: 2200 mAh
Dimensions: 3 ½"W x 1"H x ¾"D
Material: LED
Colors: Black, Turquoise Blue, Pink
Weight in lbs: 0.2
SKU: P5264
G-Tech
Technology brought to the bag to provide an up to date practicallity that upgrades the mundane to the modern.
Any images or logos on the product are examples only of customized orders. All product will be shipped blank. If you desire to customize your order please contact us for pricing and details.