$ 3.10 $ 4.96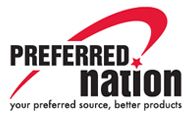 Preferred Nation Eco Laminated Shopper Bag
Tonal swirls wind their way across the shiny surface of this eco-savvy shopper. Made of 100% post-consumer recycled laminated PET fabric. It's water-resistant, washable, reusable and recyclable! It's great for groceries, shopping and travel. It's the planet-friendly way to pack!
Your choice for shopping, travel or groceries
Water resistant and washable
Eco friendly
Sturdy construction
Dimensions: 12 1/2" X 14 1/2" X 8
Material: PET
Colors: Black
Weight in lbs: 0.37
SKU: 1554
Any images or logos on the product are examples only of customized orders. All product will be shipped blank. If you desire to customize your order please contact us for pricing and details.