$ 37.00 $ 120.00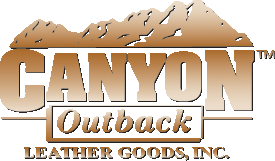 Features fold over flap that snaps closed. The case is padded throughout to protect your media device. Includes a carrying handle and an adjustable shoulder strap that extends to 51".
Dimensions:9" (w) x 10" (h) x 1" (d)
Weight: 1.125 lbs.
Color: Tan
Material: 16 oz. Washed Beige Cotton Canvas, Genuine Leather, Vegan Leather
Urban Edge by Canyon Outback is their newest addition and is a very trendy, stylish look. It's ready for any adventure or works great in the office too. This line combines a variety of materials with genuine leather and/or vegan leather, with functionality and quality. These products will stand up to the great craftsmanship and superior quality of the traditional Canyon Outback leather items. There are four collections within the Urban Edge line: The Sophmore Collection, the Sydney Collection, the Realtree Camo Xtra Collection and finally the Metropolitan Collection.